Learn more about nutrition with the free EatFresh.org Mini Course! Start or continue now ›
https://eatfresh.org/eatfreshorg-mini-course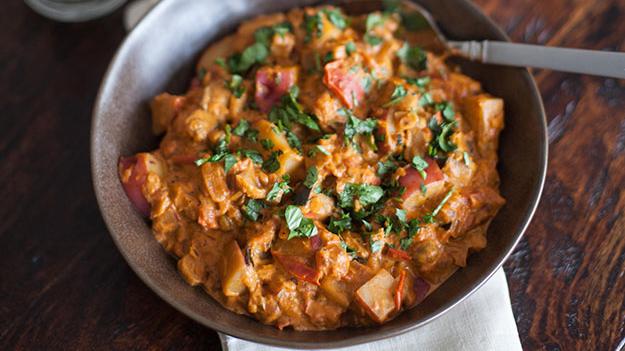 Photo attribution: My Tu Duong
Ready In: 1 hour
Serves: 6
Prepare this hearty curry with or without coconut milk.
What you'll need
Measuring cups
Measuring spoons
Sharp knife
Cutting board
Cheese grater (to shred veggies)
Large pot
Large wooden spoon
Stovetop
Ingredients
2 tablespoons Vegetable Oil
2 teaspoons Fresh Ginger grated
1 Green Chili Peppers seeded and chopped
1 Eggplants small, chopped
2 tablespoons Tomato Paste
1/2 cup Unsweetened Coconut Milk (optional)
4 tablespoons Fresh Cilantro chopped
Directions
1.
Heat oil in a large pot. Add onions and cook until soft, about 5 minutes.
2.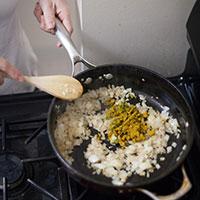 Add curry powder, garlic, ginger, and chili pepper. Cook for 3 minutes.
3.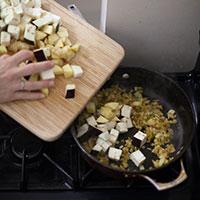 Add eggplant and potatoes. Cook for 5 minutes over medium heat.
4.Reduce heat to low and cook until potatoes are tender, about 20 minutes. Stir once or twice for even cooking.
5.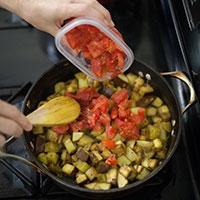 Add tomatoes and tomato paste. Add salt and pepper. Stir well.
6.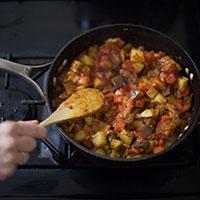 Simmer for 5 minutes.
7.Stir in coconut milk, if using. Add cilantro and serve.
Chef's Tips
You may use yogurt instead of coconut milk.
Add cubed chicken or beef for a hearty meal.
Amount Per Serving
Calories 220
% Daily Value*
Total Fat 9 g
12%
Saturated Fat 4 g
20%
Sodium 486 mg
21%
Total Carbohydrate 33 g
12%
Dietary Fiber 6 g
21%
Protein 5 g
* Percent Daily Values are based on a 2,000 calorie diet. Your daily values may be higher or lower depending on your calorie needs: