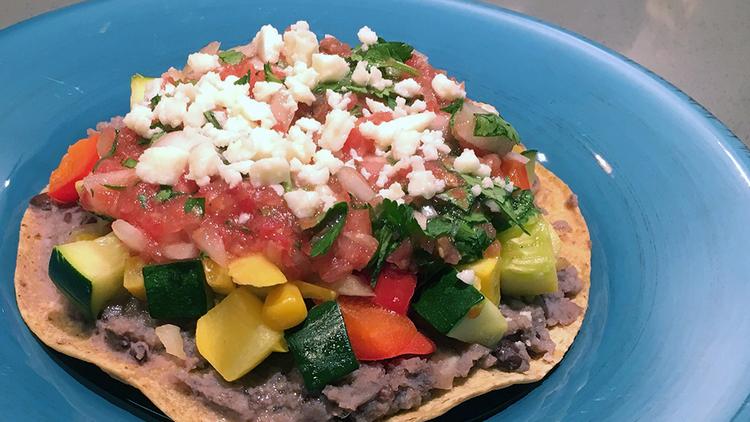 Photo attribution: Carrie Adair
Ready In: 25 minutes
Serves: 5
This tostada olé has tasty veggies & protein to give you energy for play.
Ingredients
1 tablespoon Canola Oil separated
1/4 cup Yellow Onion chopped
1 cup Red Bell Peppers chopped
1 cup Corn canned, frozen, or fresh
1 cup Yellow Squash chopped
1 tablespoon Garlic finely chopped
1 1/2 cups Vegetarian Refried Black Beans
Salsa
2 cloves Garlic roughly chopped
4 Tomatoes roughly chopped
1 Yellow Onion medium, roughly chopped
1 bunch Cilantro roughly chopped
Directions
1.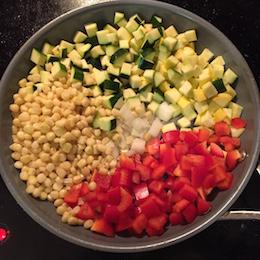 Heat 2 teaspoons canola oil in medium skillet. Add onion, bell peppers, corn, zucchini, and yellow squash. Cook, stirring occasionally, until vegetables are softened, about 6 minutes. Set aside.
2.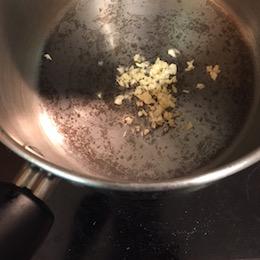 Heat 1 teaspoon canola oil in medium skillet. Add 1 tablespoon of finely chopped garlic. Cook for 30 seconds. Add can of refried beans. Mix beans and garlic together until smooth and heated through. Set aside.
3.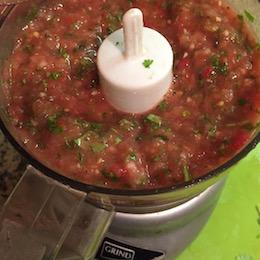 Prepare salsa: Blend 2 cloves of chopped garlic and 4 medium chopped tomatoes until smooth. Place in a bowl and add 1 medium chopped onion and 1 bunch of chopped cilantro or epazote leaves.
4.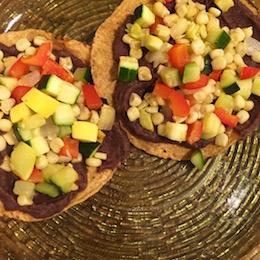 Spread a thin layer of the bean and garlic mixture on top of a tostada. Add a spoonful of the cooked vegetables. Top with salsa and queso fresco. Eat by picking up the tostada with both hands.
Amount Per Serving
Calories 233
% Daily Value*
Total Fat 8 g
10%
Saturated Fat 2 g
10%
Sodium 467 mg
20%
Total Carbohydrate 37 g
13%
Dietary Fiber 7 g
25%
Protein 8 g
* Percent Daily Values are based on a 2,000 calorie diet. Your daily values may be higher or lower depending on your calorie needs: