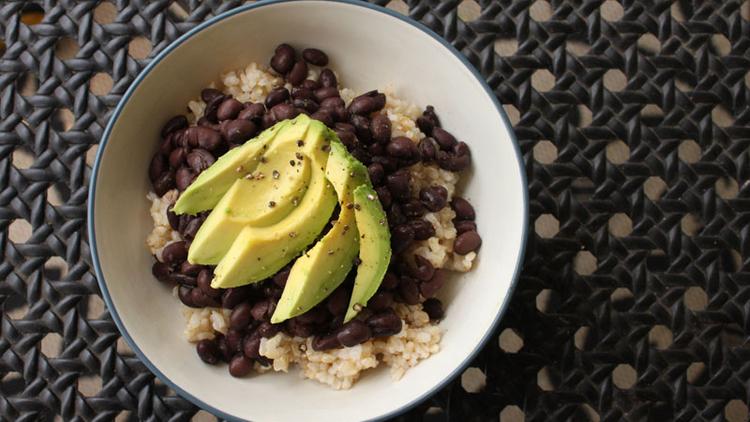 Photo attribution: Jessica Roeckel
Ready In: 50 minutes
Serves: 2
This can be a quick meal or snack if you keep cooked rice on hand.
What you'll need
Can opener
Measuring cups
Medium pot or rice cooker
Medium saucepan with lid
Stovetop
Strainer
Spatula or spoon
Ingredients
14 ounces Black Beans canned, low sodium
1/2 cup Brown Rice uncooked
Spices optional: black pepper, garlic powder, ground cumin
Directions
1.
Bring 1 cup of water to a boil with ½ tsp. salt (optional). Stir in rice. Cover and cook over low heat until water is absorbed, about 45 minutes, or cook rice in a rice cooker.
2.
Meanwhile, rinse and drain beans. Add desired spices. Cook over low heat in a saucepan, or in a microwavable dish in the microwave.
3.Cut avocado into slices or dice into small pieces. Serve rice with beans on top, and garnish with avocado pieces.
Chef's Tips
This dish can be topped with a variety of add-ons: Try hot sauce, salsa, sauteed greens, or a fried egg.
Amount Per Serving
Calories 504
% Daily Value*
Total Fat 17 g
22%
Saturated Fat 3 g
15%
Sodium 258 mg
11%
Total Carbohydrate 76 g
28%
Dietary Fiber 20 g
71%
Protein 17 g
* Percent Daily Values are based on a 2,000 calorie diet. Your daily values may be higher or lower depending on your calorie needs: