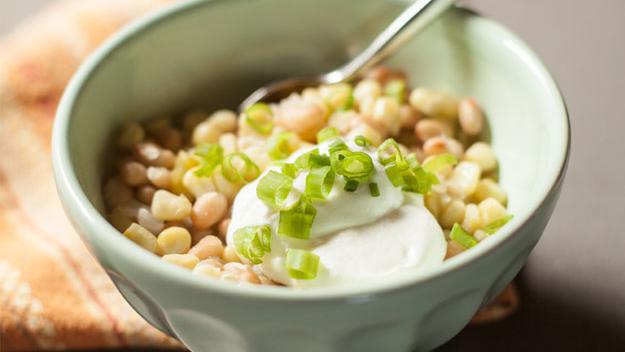 Photo attribution: My Tu Duong
Ready In: 40 minutes
Serves: 6
Use chicken broth in this recipe for a richer flavor.
What you'll need
Cutting board
Sharp knife
Measuring cups
Measuring spoons
Can opener
skillet or slow cooker or rice cooker
Spatula or spoon
Ingredients
1 Carrot large, chopped in small pieces
1 pound White Corn frozen
28 ounces Great Northern White Beans low-sodium, drained, and rinsed
2 Green Chili Peppers fresh and minced
1 cup Water or 1 cup Chicken Broth low-sodium
3 tablespoons Lemon Juice
2 teaspoons Oregano dried
Slow Cooker Directions 4 hours 20 minutes
1.
Put everything except optional ingredients into a slow cooker.
2.
Cook on low for 8-9 hours, or high for 4-6.
3.
Serve with yogurt, sour cream, or cheese on top.
Rice Cooker Directions 20 minutes
1.
Combine everything in a rice cooker and cook for one or two cycles, until the beans are as tender as you like them.
Stovetop Directions 40 minutes
1.
Cook onion in a little oil over medium heat.
2.
Add garlic and cook for two minutes.
3.
Put remaining ingredients in pot. Cook on medium heat for 30 minutes.
Amount Per Serving
Calories 192
% Daily Value*
Total Fat 1 g
1%
Saturated Fat <1 g
1%
Sodium 176 mg
8%
Total Carbohydrate 40 g
15%
Dietary Fiber 10 g
36%
Protein 10 g
* Percent Daily Values are based on a 2,000 calorie diet. Your daily values may be higher or lower depending on your calorie needs: