Ready In: 30 minutes
Serves: 5
This colorful stew packed with nutrients will not only appeal to your eyes, but also your taste buds!
What you'll need
Sharp knife
Cutting board
Measuring cups
Measuring spoons
Large wok or saucepan
Large wooden spoon
Stovetop
Ingredients
1 Red Onion medium chopped
2 cups Butternut Squash peeled and cubed
3 Purple Potatoes medium chopped or 3 Red Potatoes medium chopped
4 cloves Garlic finely chopped
1 cup Collard Greens center rib removed, medium chopped or 1 cup Swiss Chard center rib removed, medium chopped
1 cup Mushrooms medium chopped
6 Fresh Basil roughly chopped
1/2 cup Parmesan Cheese shaved, optional
Directions
1.
Heat 3 tablespoons olive oil in large wok or saucepan. Add red onion and pre-cubed butternut squash and sauté about 4 minutes. Add can of diced tomatoes, water or vegetable broth, purple potatoes, and garlic. Continue cooking, stirring occasionally, for about 10 minutes. Season with salt and pepper.
2.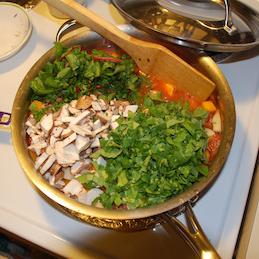 Add collard greens or Swiss chard, mushrooms, and spinach. Cook for about 4 minutes, stirring occasionally. Add chopped fresh basil.
3.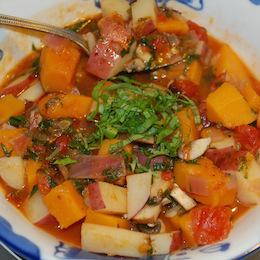 Top stew with shaved parmesan cheese separately.
Amount Per Serving
Calories 320
% Daily Value*
Total Fat 12 g
15%
Saturated Fat 3 g
15%
Sodium 450 mg
20%
Total Carbohydrate 46 g
17%
Dietary Fiber 7 g
25%
Protein 9 g
* Percent Daily Values are based on a 2,000 calorie diet. Your daily values may be higher or lower depending on your calorie needs: