Learn more about nutrition with the free EatFresh.org Mini Course! Start or continue now ›
https://eatfresh.org/eatfreshorg-mini-course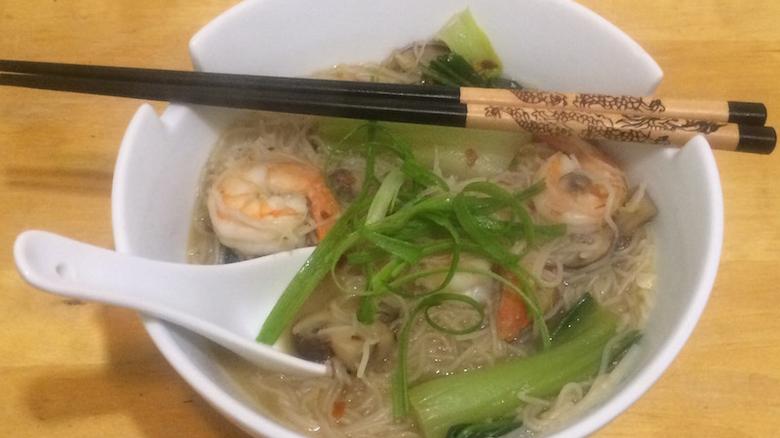 Photo attribution: Danielle Boulé
Ready In: 20 minutes
Serves: 4
Filling noodles with shrimp make this one-pot meal a family favorite!
What you'll need
Measuring spoons
Cutting board
Sharp knife
Stovetop
Grater
Large pot (stockpot) with lid
Ingredients
3 tablespoons Vegetable Oil
2 teaspoons Crushed Red Pepper Flakes
2 tablespoons Ginger Root about 2 inches, peeled and grated
1/2 pound Brown Mushrooms sliced
1 Bok Choy trimmed and cut into 3 inch pieces
1 quart Chicken Broth low-sodium
1 pound Shrimp medium, peeled and deveined
8 ounces Vermicelli (thin Spaghetti)
4 Green Onions cut into 3 inch pieces and shredded lengthwise into thin strips
Directions
1.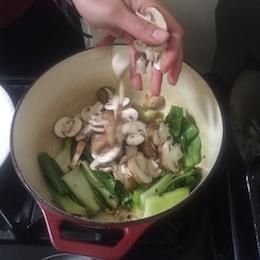 In stockpot, heat oil, crushed red pepper, garlic, ginger, mushrooms, and bok choy.
2.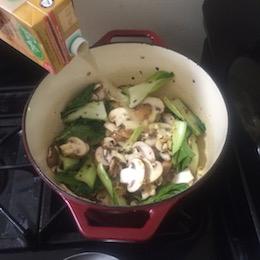 Add chicken broth and clam juice. Cover and bring soup to a boil.
3.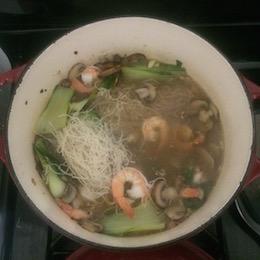 Add shrimp and vermicelli: cook 3 minutes.
4.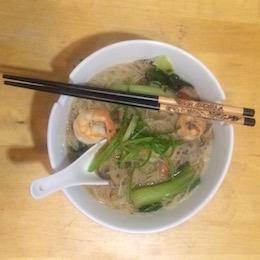 Serve sprinkled with green onions.
Chef's Tips
Cubed tofu or chicken can be substituted for the shrimp.
Amount Per Serving
Calories 408
% Daily Value*
Total Fat 15 g
19%
Saturated Fat 2.5 g
13%
Sodium 480 mg
21%
Total Carbohydrate 28 g
10%
Dietary Fiber 2.75 g
10%
Protein 41 g
* Percent Daily Values are based on a 2,000 calorie diet. Your daily values may be higher or lower depending on your calorie needs: