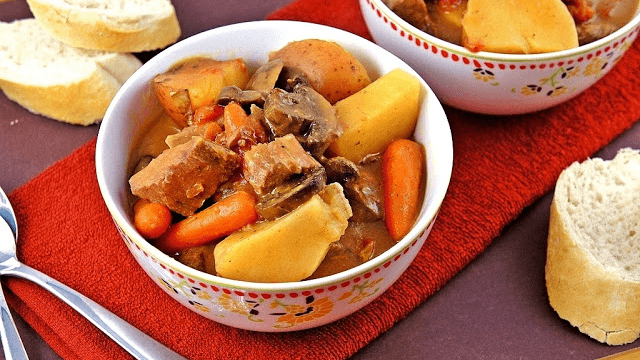 Photo attribution: Flickr: Kitchen Life of a Navy Wife
Ready In: 5 hours 10 minutes
Serves: 4
This recipe was a signature dish of a beloved Leah's Pantry staff member, Ralph Cooper, the slow-cooker chef.
What you'll need
Crockpot (slow cooker)
Cutting board
Sharp knife
Can opener
Measuring spoons
Ingredients
1 Potato cut into 1-inch cubes
1 Carrot medium, cut into 1-inch cubes
1 pound Beef Stew Meat fat trimmed, cut into ½-inch pieces
14 1/2 ounces Diced Tomatoes canned, Italian-style
1/4 teaspoon Black Pepper ground
1/4 teaspoon Cinnamon ground
Directions
1.Place potatoes, carrots, and zucchini in the bottom of a 2-4 quart slow cooker.
2.Add beef and remaining ingredients.
3.Cover and cook on HIGH for 5 hours or until meat is tender.
4.Or, cover and cook on HIGH 1 hour, then reduce to LOW heat and cook on LOW for 7 hours.
Chef's Tips
Substitute some or all of the potatoes with other root vegetables such as turnips, rutabaga, celeriac, or parsnips.
Amount Per Serving
Calories 296
% Daily Value*
Total Fat 8 g
10%
Saturated Fat 1 g
5%
Sodium 556 mg
24%
Total Carbohydrate 17 g
6%
Dietary Fiber 2 g
7%
Protein 40 g
* Percent Daily Values are based on a 2,000 calorie diet. Your daily values may be higher or lower depending on your calorie needs: