Learn more about nutrition with the free EatFresh.org Mini Course! Start or continue now ›
https://eatfresh.org/eatfreshorg-mini-course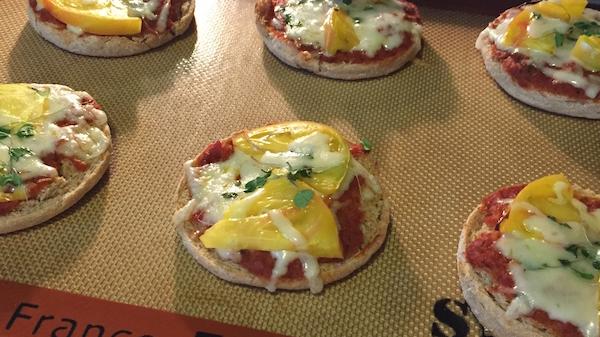 Photo attribution: Meriwynn Mansori
Ready In: 20 minutes
Serves: 6
These little pizzas are great for kids or anyone who is short on time!
What you'll need
Sharp knife
Cutting board
Oven or toaster oven
Spoon
Baking sheet
Measuring cups
Measuring spoons
Oven mitt
Ingredients
6 English Muffins whole wheat
3/4 cup Tomato Sauce low-sodium
1 cup Cheese low-fat and grated
Optional toppings
Broccoli chopped
Red Onion cooked or raw, sliced
Bell Pepper sliced
Spinach chopped
Pineapple chopped
Mushrooms chopped
Olives sliced
Directions
1.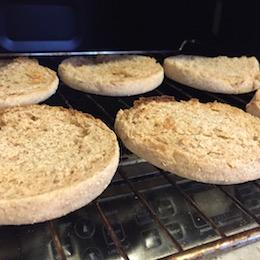 Slice English muffins in half. Toast until slightly brown.
2.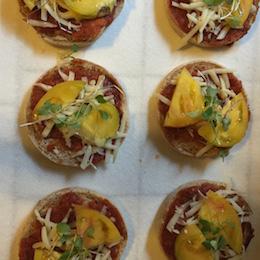 Cover each muffin with 1 tablespoon sauce and 1 tablespoon cheese. Add your favorite toppings.
3.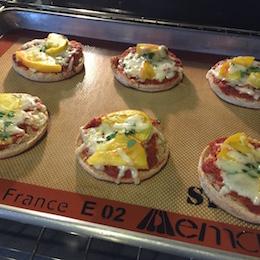 Bake on a cookie sheet at 425˚F for 8-10 minutes or until cheese melts. Refrigerate leftovers and reheat as needed.
Amount Per Serving
Calories 200
% Daily Value*
Total Fat 4 g
5%
Saturated Fat 1.5 g
8%
Sodium 540 mg
23%
Total Carbohydrate 29 g
11%
Dietary Fiber 5 g
18%
Protein 13 g
* Percent Daily Values are based on a 2,000 calorie diet. Your daily values may be higher or lower depending on your calorie needs: