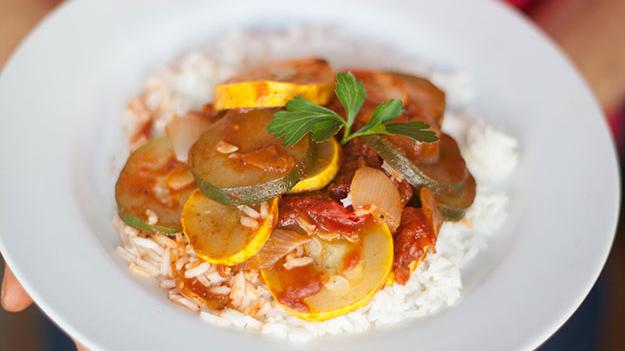 Photo attribution: My Tu Duong
Ready In: 40 minutes
Serves: 4
Any summer squash can be used in this tasty vegetable stew.
Ingredients
1 teaspoon Arabian Spice Blend
4 Zucchini medium, peeled and cut into 1/2-inch thick slices
Directions
1.Heat the oil in a skillet over medium-high heat.
2.Add the onion and garlic. Cook until onions are soft, about 3 minutes.
3.Turn off the burner. Add 2 T water to the onions and garlic. Arrange the tomato slices on top of the onions. Sprinkle with 1 tsp salt and 1 tsp spice blend.
4.Add the zucchini in one layer and spread the tomato sauce over top. Cover the pan and simmer over low heat for about 10 minutes, or until the zucchini is tender.
5.Serve over brown rice.
Amount Per Serving
Calories 112
% Daily Value*
Total Fat 5 g
6%
Saturated Fat 1 g
5%
Sodium 620 mg
27%
Total Carbohydrate 17 g
6%
Dietary Fiber 5 g
18%
Protein 5 g
* Percent Daily Values are based on a 2,000 calorie diet. Your daily values may be higher or lower depending on your calorie needs: