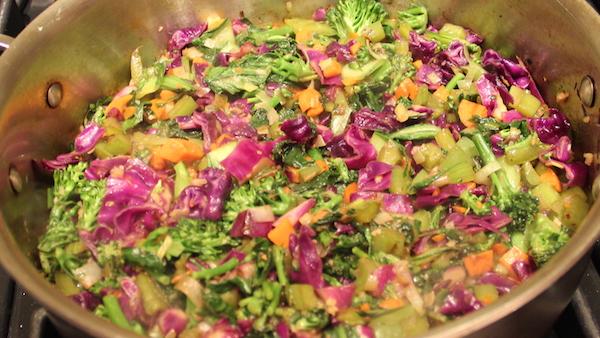 Photo attribution: Amy Iacopi
Ready In: 20 minutes
Serves: 5
Stir up your appetite by making the Stir-It-Up Stir Fry.
Ingredients
2 tablespoons Soy Sauce low-sodium
1/4 cup Vegetable Broth low-sodium
1 tablespoon Rice Vinegar
1/2 cup Celery medium chopped
1 cup Leeks medium chopped
1 cup Carrots medium chopped
1 cup Bell Pepper medium chopped
2 cups Broccoli medium chopped
2 cups Bok Choy medium chopped
1 cup Swiss Chard medium chopped
1 cup Napa Cabbage medium chopped
2 cups Kohlrabi medium, peeled and chopped
1 tablespoon Garlic finely chopped
1 tablespoon Fresh Ginger peeled and finely chopped
1 1/2 cups Brown Rice cooked
Directions
1.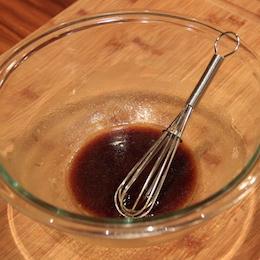 Mix soy sauce, vegetable broth, rice vinegar, sesame oil, and corn starch in a medium bowl. Set aside.
2.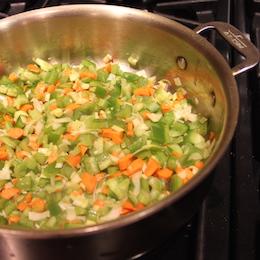 Heat 1 tablespoon canola oil in large wok or skillet. Add celery, leeks, carrots, and bell pepper. Cook, stirring occasionally, until slightly softened, about 2 minutes.
3.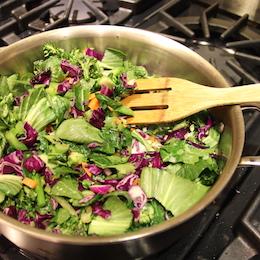 Add broccoli, bok choy, Swiss chard, cabbage, and kohlrabi. Cook for about 3 minutes.
4.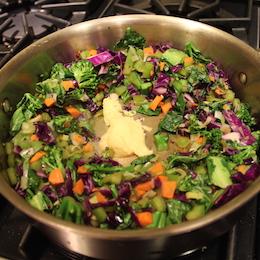 Push vegetables to the sides, clearing a space in the center of the wok or skillet. In the clear space add garlic and ginger. Cook for 30 seconds, then mix into vegetables.
5.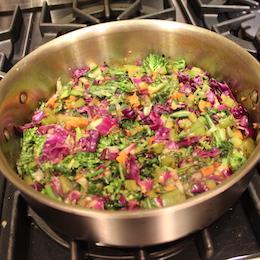 Add sauce mixture to the vegetables. Mix together and cook for 1 minute.
6.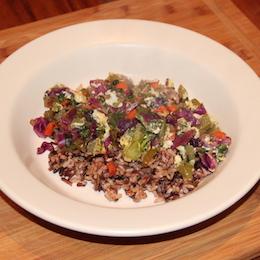 Serve over pre-cooked, warmed, brown rice.
Amount Per Serving
Calories 180
% Daily Value*
Total Fat 4.5 g
6%
Sodium 330 mg
14%
Total Carbohydrate 32 g
12%
Dietary Fiber 7 g
25%
Protein 6 g
* Percent Daily Values are based on a 2,000 calorie diet. Your daily values may be higher or lower depending on your calorie needs: