Learn more about nutrition with the free EatFresh.org Mini Course! Start or continue now ›
https://eatfresh.org/eatfreshorg-mini-course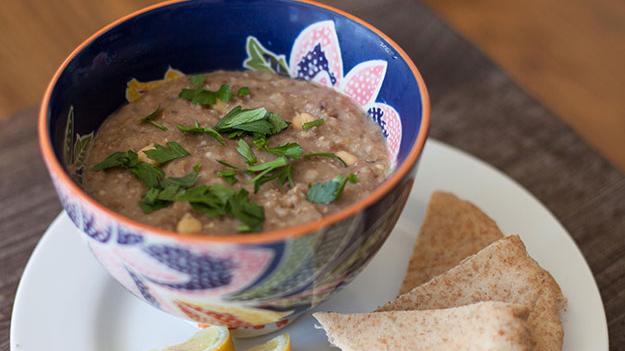 Photo attribution: My Tu Duong
Ready In: 5 hours
Serves: 4
This filling soup works as a side dish, or served with salad, a vegetarian entrée.
What you'll need
Crockpot (slow cooker)
Measuring cups
Measuring spoons
Cutting board
Sharp knife
Sieve or colander
Large skillet
Strainer
Ladle
Spatula or spoon
Ingredients
1/2 cup Brown Lentils dried
5 cups Water or 5 cups Vegetable Broth or 5 cups Low Sodium Chicken Stock
2 tablespoons Vegetable Oil
1 cup Garbanzo Beans cooked, rinsed and drained
1 1/2 tablespoons Lemon Juice (about 1/2 lemon)
1/4 cup Fresh Parsley chopped, for garnish
Directions
1.Rinse barley and lentils. Drain and place in a slow cooker.
2.Add stock or water. Cook on high heat for 4 hours (or low for 8 hours).
3.In a skillet, heat oil. Add onion, cumin and salt. Cook until onion is soft, about 5 minutes. Add to the slow cooker.
4.Stir in the garbanzo beans. Cook the soup on high heat for 1 hour more (or low for 2 hours).
5.Just before serving, stir in lemon juice. Ladle the soup into bowls, and sprinkle with parsley and cumin. Serve with flatbread and salad.
Chef's Tips
To use dried garbanzo beans: Rinse and pick out any stones. Add to the slow cooker with the dried barley and lentils in Step 1. Increase stock or water to 7 cups and continue with recipe.
Amount Per Serving
Calories 326
% Daily Value*
Total Fat 10 g
13%
Saturated Fat 1 g
5%
Sodium 710 mg
31%
Total Carbohydrate 49 g
18%
Dietary Fiber 12 g
43%
Protein 14 g
* Percent Daily Values are based on a 2,000 calorie diet. Your daily values may be higher or lower depending on your calorie needs: