Photo attribution: David Pettijohn
Ready In: 10 minutes
Serves: 4
A delicious fruit dessert with a crunch!
What you'll need
Can opener
Strainer
microwave safe dish and cover
Measuring cups
Measuring spoons
Microwave
Spatula or spoon
Ingredients
15 ounces Peaches canned, sliced, drained
15 ounces Pears canned, halved, drained
1/4 teaspoon Vanilla Extract or Almond Extract
1/4 teaspoon Ground Cinnamon
Directions
1.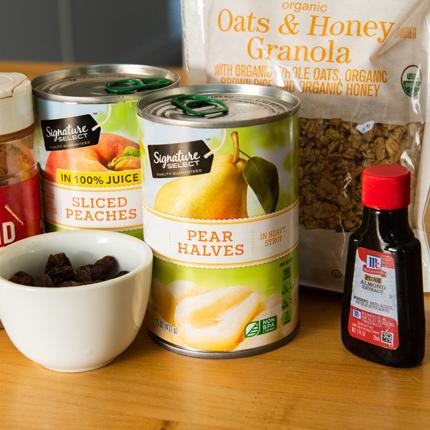 Combine peaches, pears, extract, and ground cinnamon in a microwave safe bowl. Stir well.
2.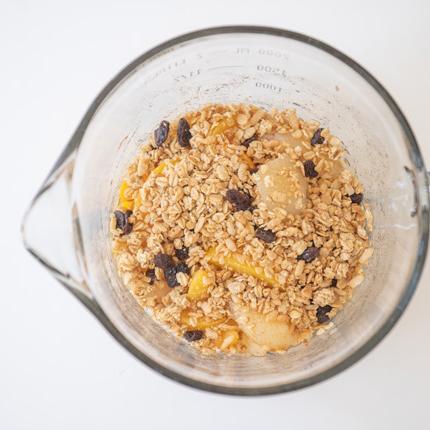 Sprinkle granola over the top. Cover the bowl with a lid or plastic wrap. Be sure to leave a little opening for the steam to get out.
3.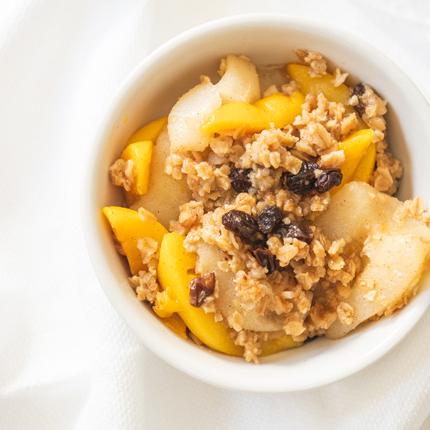 Microwave on high for 5 minutes. Use pot holders to remove the bowl from the microwave because it may be hot.
4.
Let cool slightly before serving.
Amount Per Serving
Calories 210
% Daily Value*
Total Fat 3.8 g
5%
Saturated Fat <1 g
3%
Sodium 44 mg
2%
Total Carbohydrate 44 g
16%
Dietary Fiber 6.3 g
23%
Protein 3.4 g
* Percent Daily Values are based on a 2,000 calorie diet. Your daily values may be higher or lower depending on your calorie needs: