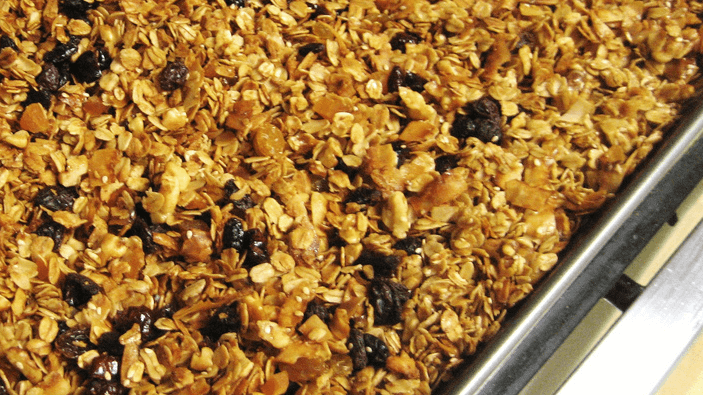 Photo attribution: Flickr: Stacy Spensley
Ready In: 10 minutes
Serves: 12
Add this granola to any yogurt or sprinkle on a fruit salad for added crunch and flavor.
What you'll need
Measuring cups
Measuring spoons
Cutting board
Sharp knife
Serving bowls
Oven
Oven mitt
Baking sheet
Ingredients
1 cup Almonds slivered or Walnuts chopped or Pecans chopped
2 tablespoons Sesame Seeds or Flax Seeds
3/4 cup Dried Fruit sliced
Optional, for serving
Honey
Milk
Yogurt
Directions
1.Preheat oven to 375˚ F. Spread oats, seeds, nuts, and coconuts on a baking sheet and bake for 30 minutes.
2.Let cool, then add sliced fruit.
3.Serve with honey and milk or yogurt.
Amount Per Serving
Calories 435
% Daily Value*
Total Fat 18 g
23%
Saturated Fat 4 g
20%
Sodium 23 mg
1%
Total Carbohydrate 56 g
20%
Dietary Fiber 10 g
36%
Protein 15 g
* Percent Daily Values are based on a 2,000 calorie diet. Your daily values may be higher or lower depending on your calorie needs: