Learn more about nutrition with the free EatFresh.org Mini Course! Start or continue now ›
https://eatfresh.org/eatfreshorg-mini-course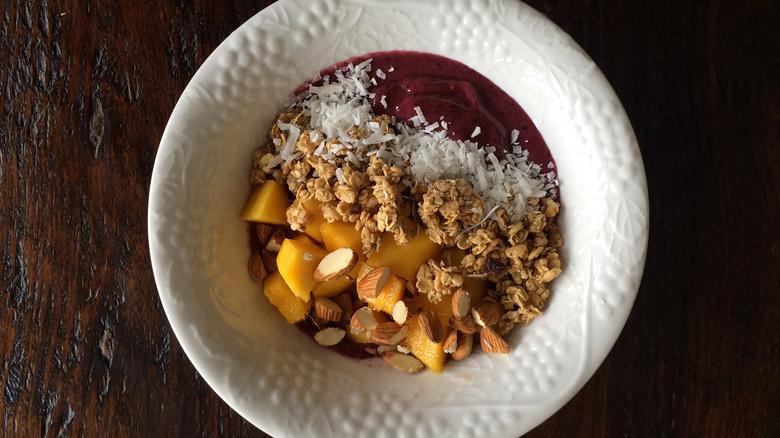 Photo attribution: Danielle Boulé
Ready In: 15 minutes
Serves: 2
This will satisfy any sweet craving and provide you with nutrients and fiber!
What you'll need
Sharp knife
Grater
Blender
2 bowls
Ingredients
1 1/4 teaspoons Ginger Root
1 cup Milk or non-dairy milk alternative
1 Mango Manila variety, small, peeled and cubed, or 1/2 large mango
2 tablespoons Almonds chopped
2 tablespoons Unsweetened Shredded Coconut
Video Directions
Directions
1.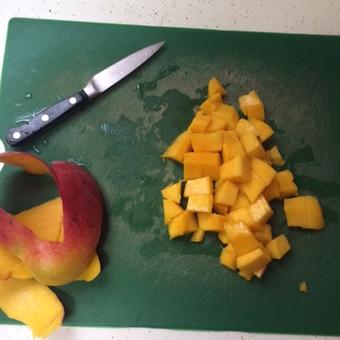 Peel and finely grate ginger. Peel and cut mango into bite-sized pieces. Keep separate.
2.
Place frozen banana, berries, grated ginger, and milk in a blender. Blend until smooth. Mixture will be thick.
3.
Divide smoothie evenly into two bowls. Top each smoothie bowl with mango pieces, almonds, shredded coconut, and granola. Enjoy!
Chef's Tips
Alternative toppings:
chia seeds
walnuts
fresh berries
Amount Per Serving
Calories 454
% Daily Value*
Total Fat 16.8 g
22%
Saturated Fat 7.6 g
38%
Sodium 139 mg
6%
Total Carbohydrate 70 g
25%
Dietary Fiber 8.2 g
29%
Protein 10.5 g
* Percent Daily Values are based on a 2,000 calorie diet. Your daily values may be higher or lower depending on your calorie needs: