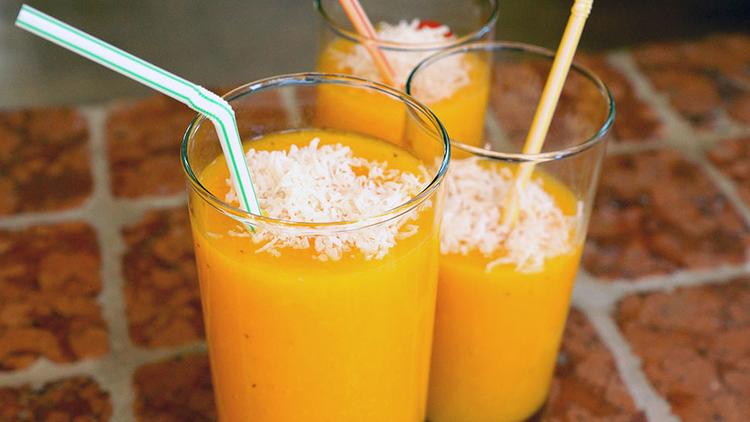 Photo attribution: Era Cathey
Ready In: 10 minutes
Serves: 6
Enjoy this colorful, refreshing treat on hot days.
What you'll need
Measuring spoons
Measuring spoons
Cutting board
Sharp knife
Blender
Ingredients
1 Pineapple small, peeled and diced (about 4 cups)
4 Mangos peeled, pitted, and diced (about 6 cups)
2 cups Nonfat Milk or 2 cups Water cold
3 tablespoons Coconut Flakes dry, unsweetened
Directions
1.Combine fruit and milk (or water) in the jar of a blender. Pulse to desired smoothness.
2.Stir in coconut flakes. Serve immediately over ice, or chill for 30 minutes in the fridge.
Chef's Tips
To prepare this without a blender, use the fine holes on a box grater to "puree" the mangos and pineapples.
Try this with other fruits, such fresh watermelon, frozen jackfruit, or ripe cantaloupe.
Amount Per Serving
Calories 136
% Daily Value*
Total Fat 1.9 g
2%
Saturated Fat 1 g
5%
Sodium 12 mg
1%
Total Carbohydrate 31.9 g
12%
Dietary Fiber 3.3 g
12%
Protein 1.6 g
* Percent Daily Values are based on a 2,000 calorie diet. Your daily values may be higher or lower depending on your calorie needs: