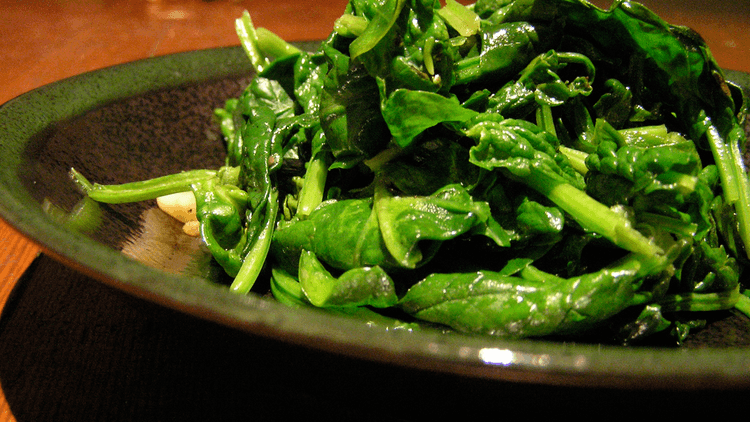 Photo attribution: Flickr: Laurel Fan
Ready In: 15 minutes
Serves: 6
Spinach is loaded with vitamin A and C. Quick to make, this dish adds a lot of nutrients to any meal.
What you'll need
Measuring cups
Measuring spoons
Strainer
Large skillet
Cutting board
Sharp knife
Stovetop
Large skillet
Spatula or spoon
Ingredients
2 1/2 pounds Spinach about 4 bunches
1/2 teaspoon Salt adjust to taste
1/4 teaspoon Black Pepper
Directions
1.Cut and discard the spinach stems.
2.Rinse, drain and pat spinach dry with paper towels.
3.In a large skillet, over medium heat: heat oil.
4.Add garlic cloves and sauté until golden brown.
5.
Add spinach one quarter at a time and cook, stirring often and adding water for moisture.
6.Once all spinach has been added, add salt and pepper; adjust seasonings if necessary.
7.Add lemon juice, if desired.
8.Serve warm.
Amount Per Serving
Calories 130
% Daily Value*
Total Fat 10 g
13%
Sodium 340 mg
15%
Total Carbohydrate 8 g
3%
Dietary Fiber 4 g
14%
* Percent Daily Values are based on a 2,000 calorie diet. Your daily values may be higher or lower depending on your calorie needs: